Self Drive Bus Hire Perth
Welcome to Low-Cost Self-Drive, we are the leading self-drive vehicle hire company in Perth. We specialise in providing high-quality vehicles for Self Drive hire in and around the Perth area.
The information on this page relates purely to a self-drive service, if this is not what you are looking for then click here to visit our partner coachhire.com.au for coach charters Perth.
We aim to give the best possible service at the most reasonable rates, we strive to make it as easy as possible to do business with us and our clients are treated as our number one priority.
The popularity of hiring a self drive minibus in Perth has never been as high as there are many positive aspects to this, including: economy, convenience, space and the fact that a special driving license is not required.
Additional to our normal fleet we offer a range of Minibuses and small coaches that can be used for a multitude of activities, and some of our clients have used them for: corporate outings, family days out, weddings, conference delegates, golfing tours, day trips, wine tours, city shopping excursions and every manner of event or activity where you need small party transportation.
Our Service
Our policy to make it easy as possible to deal with us, centres around the TravelSafe friendly and efficient staff. Our drivers are always courteous and well attired and our office personnel are experienced and friendly.
We provide:
Modern, clean, and well appointed vehicles that are valeted after each hiring.
We ensure that all vehicles are regularly maintained and meet all safety requirements.
TravelSafe operate a 24 hour contact line to give our clients the best possible service if something unforeseen crops up.
We also offer a peace of mind breakdown service so you can feel confident of hiring any one of our vehicles.
Customers are given a full vehicle inspection before hire with all the vehicle details.
We have a choice of trailers for rent if you require a little more luggage room and child seats are available on request.
Our Vehicles
Low Cost Self Drive have an extensive fleet for our clients to choose from. We only hire out modern, well appointed and exceptionally well maintained vehicles, including 12 seat self drive minibuses.
Clients can choose from:
12 Seat Mini Bus
20 Seat Mini Coach
All drivers must be over twenty five, and vehicles are covered by RAC 24 hour breakdown cover.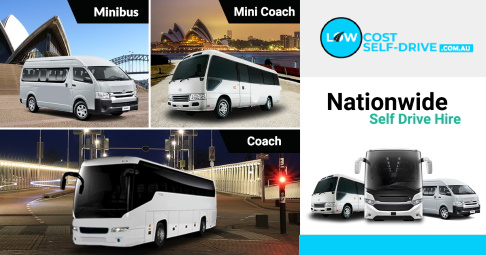 Self Drive Bus Hire Requirements
 Low Cost Self Drive have to follow state and government requirements and the following licenses are required to drive the vehicles indicated.
10-13 seats – C-Class licence (same as car)
13-24 seats – LR-Class licence
24+ seats – MR-Class license
HR-Class license – vehicle that has 3 or more axles and a gross vehicle mass greater than 8,000kg.
When you hire any vehicle from TravelSafe you must produce a valid driving license that is appropriate to the vehicle you are hiring.
If you need a slightly larger vehicle for your group that your license does not cover you for, then contact TravelSafe Coach Hire for a quotation on a vehicle with driver.
Our vehicles are all available for long or short term depending on your requirements. Drivers taking advantage of our self-drive bus rental service need to be over 25 years of age.
So why delay? Book your Self Drive Bus Hire Perth today, use the quote form or contact our friendly team for a no-obligation quote.